关于我们
---
30年来潜心专注于运动、户外用品的研发、生产
公司简介
---
浙江大自然户外用品股份有限公司诞生于1992年,30年来潜心专注于运动、户外用品的研发、生产。时至今日,已成为户外运动行业知名的充气床垫、户外箱包供应商,与全球40多个国家200多个品牌建立了良好稳定的合作关系。公司产品主要包括:自动充气垫 、充气床 、防水包、冰包、枕头、坐垫以及TPU复合面料等。
公司自始至终重视研发、设计,拥有国内外专利100多项,为公司的快速快速发展提供了有力的技术支持。公司不断提高管理能力,获得了ISO9001质量、ISO14001环境、OHSAS职业健康安全管理体系认证以及通过了BSCI、沃尔玛、迪卡侬等验厂认证,努力满足客户更高的需求。并先后被评为国家高新技术企业、浙江省出口名牌、浙江省名牌、省级高新技术企业研发中心、浙江省AAA级守合同重信用企业等荣誉和称号。
企业文化
---

经营理念
诚信、学习、创新、共赢

公司愿景
我们致力于成为一家更专注、更高效、更高科技 含量、更具人文关怀、世界一流的户外用品供应商!
价值观
真诚 真知 真干 真爱
使命
不断创新,持续为全球客户提供优质产品,享受运动的健康和欢乐!
After the founder of the company, Xia Jibiao, ended the operation of the kelp rope factory, took out his life savings and set up the Tiantai County Tourism Products Factory again at the age of 58, and began to produce rubber cotton inflatable beds.
Established sponge foaming workshop and high-frequency weld molding production line, produced the first batch of PVC automatic inflatable mattresses for export to Europe, and successfully transformed.
Anchoring the outdoor camping field, Zhejiang Nature Tourism Supplies Co., Ltd. was established, under the leadership of General Manager Xia Yonghui, driving into the fast lane of development.
Established a TPU coated fabric workshop and a hot compression molding production line, put into production of TPU automatic inflatable mats, and marched into the market.
TPU waterproof luggage workshop was completed and put into production, and the company stepped into the field of outdoor sports luggage.
Set foot in Shanghai, successfully acquired Shanghai Fukai, founded Shanghai Zhongda Outdoor Products Co., Ltd., and set up an outdoor products research and development center in the same year.
After completing the shareholding system transformation, Zhejiang Nature Outdoor Products Co., Ltd. was established, and the fundraising project covering an area of 145 acres began construction smoothly.
Stepping abroad, the establishment of Vietnam Nature Outdoor Products Co., Ltd., embarked on a journey of internationalization, the same year vietnam factory construction began, is expected to be completed and put into operation in July 2021
Listed on the company's main board in May 2021
资质认证
---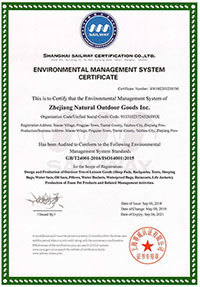 Environmental Management System Certification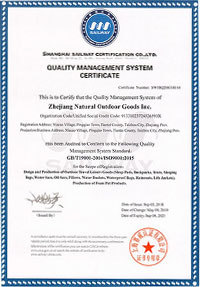 Quality management system certification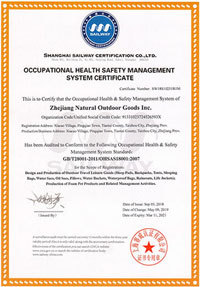 Occupational Health Management System Certification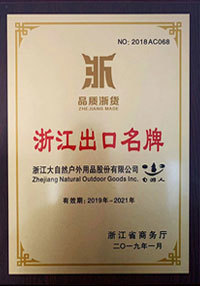 Zhejiang famous export brand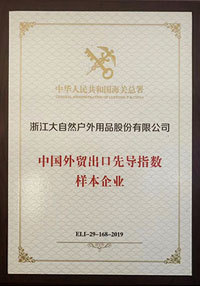 Foreign trade export leading index sample enterprises
社会责任
---




Add:Pingqiao Town, Tiantai County, Taizhou City, Zhejiang Province, China


---
Email subscriptions
Please enter your email address to facilitate us first time Contact you
---

Wap

Official Accounts