About us
---
Over the past 30 years, we have devoted ourselves to the research and development and production of sports and outdoor products
Company profile
---
ZHEJIANG NATURAL OUTDOOR GOODS INC. was founded in 1992, 30 years dedicated to sports, outdoor products research and development, production. Up to now, it has become a well-known supplier of air mattresses and outdoor bags in the outdoor sports industry, and has established a good and stable cooperative relationship with more than 200 brands in more than 40 countries around the world. The company's products mainly include: automatic inflatable mattress, inflatable bed, waterproof bag, ice bag, pillow, seat cushion and TPU composite fabric, etc.
The company attaches great importance to research and development, design from beginning to end, with more than 100 patents at home and abroad, providing strong technical support for the rapid development of the company. The company has been constantly improving its management ability, and has obtained ISO9001 quality, ISO14001 environment, OHSAS occupational health and safety management system certification and BSCI, Wal-Mart, Decathlon and other factory certification, striving to meet the higher needs of customers. And has been awarded the national high-tech enterprise, Zhejiang province export brand, Zhejiang Province brand, provincial high-tech enterprise RESEARCH and development center, Zhejiang Province AAA grade contract and credit enterprise honor and other titles.
Focus on progress for 30 years
Its business covers more than 40 countries and regions
We cooperate with more than 200 famous brands worldwide
It has more than 100 domestic and foreign patents
Mission
To sustainable provide worldwide sports users durable products via innovation, Enjoy benefit of sports.
Vision
We are committed to become a more focused, more efficient, higher technology involved, and more humanistic-care world class outdoor manufacturer! 
Values
Empressement Knowledge Effort Care
After the founder of the company, Xia Jibiao, ended the operation of the kelp rope factory, took out his life savings and set up the Tiantai County Tourism Products Factory again at the age of 58, and began to produce rubber cotton inflatable beds.
Established sponge foaming workshop and high-frequency weld molding production line, produced the first batch of PVC automatic inflatable mattresses for export to Europe, and successfully transformed.
Anchoring the outdoor camping field, Zhejiang Nature Tourism Supplies Co., Ltd. was established, under the leadership of General Manager Xia Yonghui, driving into the fast lane of development.
Established a TPU coated fabric workshop and a hot compression molding production line, put into production of TPU automatic inflatable mats, and marched into the market.
TPU waterproof luggage workshop was completed and put into production, and the company stepped into the field of outdoor sports luggage.
Set foot in Shanghai, successfully acquired Shanghai Fukai, founded Shanghai Zhongda Outdoor Products Co., Ltd., and set up an outdoor products research and development center in the same year.
After completing the shareholding system transformation, Zhejiang Nature Outdoor Products Co., Ltd. was established, and the fundraising project covering an area of 145 acres began construction smoothly.
Stepping abroad, the establishment of Vietnam Nature Outdoor Products Co., Ltd., embarked on a journey of internationalization, the same year vietnam factory construction began, is expected to be completed and put into operation in July 2021
Listed on the company's main board in May 2021
Certification
---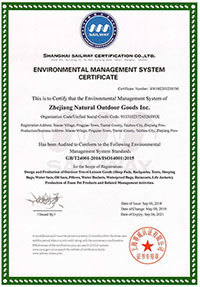 Environmental Management System Certification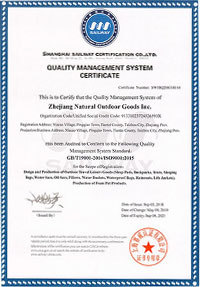 Quality management system certification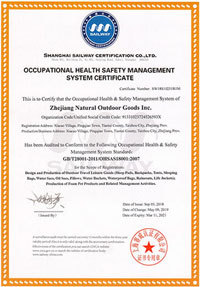 Occupational Health Management System Certification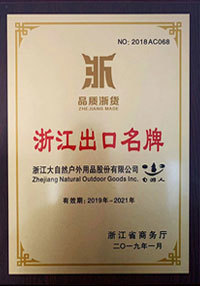 Zhejiang famous export brand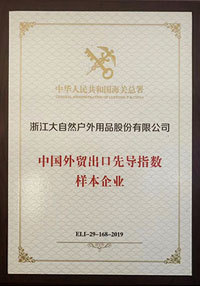 Foreign trade export leading index sample enterprises
Social responsibility
---




Add:Pingqiao Town, Tiantai County, Taizhou City, Zhejiang Province, China


---
Email subscriptions
Please enter your email address to facilitate us first time Contact you
---

Wap

Official Accounts